Ben Harper
8/2/98 Horde Festival, SPAC, Saratoga, NY

PEARL JAM
2/20/98 Baldwin Amphitheater, Maui, HI
2/21/98 Baldwin Amphitheater, Maui, HI

8/20/98 Molson Centre, Montreal, Canada
9/19/98 Constitution Hall, Washington D.C.
5/10/00 Mt Baker Theater, Bellingham, WA

Me, Mike McCready & Ryan Bowman before the show.
Jeff Ament came out an talked to us for a while. There were too many people around to ask for a picture. He signed some stuff for us. I had nothing to sign but Ryan had a backpack full of stuff and let me have his 'Go' single. Thanks Ryan!

I was interviewed by some dude before the show. It ended up on SONICNET. Everyone seems to have paid a lot for that ticket :-(
My friend Jess wrote a story about the picture. Read it HERE !
Security would not let my camera inside so I only got outside photos.
However, Ryan got a disposable inside and here are his pictures from his seat right next to mine in the 4th row.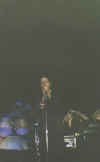 Soundboard setlist
8/27/00 Saratoga Performing Arts Center, Saratoga, NY

Ed's Setlist
PORCH !!
During 'Porch' Ed walked toward me. I reached out my right hand and he grabbed it and let me pull him in the crowd. He held my hand the entire time and I have no idea how my camera ended up in my left hand. I took most of these one-handed. Not only was this awesome it was amazing I was able to take pictures of it. I have no idea how I did it !! 1...2...3...4...
Here is a picture taken by Lizzie from clubveb.com

Read a small mention of the events in the Concert Chronology at 5h HERE
and the rest from the second encore.....
8/29/00 Tweeter Center, Mansfield, MA